Why UTeach is Right for You
UTeach is designed to give both undergraduate students and degree holders the opportunity to explore the profession of teaching in STEM fields (science, technology, engineering, and math) in a hands-on way. In the very first semester, students work in pairs to develop and teach lessons in a local classroom. Learn more about early field experiences in UTeach.
UTeach participants Garrett and Kira discovered their passion for teaching science and math by trying out UTeach. They prepared for two careers at once, a STEM-based career and teaching, in a streamlined pathway to a bachelor's degree and a teaching certification.
Undergraduate UT Students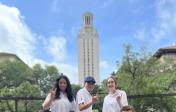 UTeach gets you into the classroom right from the beginning. It gives you the support of dedicated and experienced master teachers and prepares you to teach effective, inquiry-based lessons. And UTeach is flexible - start at any point during your college career, or even after you already have your degree.
You do not have to be enrolled in the College of Natural Sciences or major in the Teaching Option.
Undergraduate students can start the UTeach Program just by registering for UTS 101 - Step 1.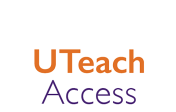 UTeach Access is a co-enrollment program with The University of Texas at Austin and Austin Community College. The program launched its inaugural cohort Fall of 2022.
Degree Holders (In addition to the traditional UTeach Pathway, there are two additional options)
Do you have a degree in science, mathematics, or computer science?
You're ready to become a teacher.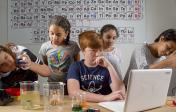 The College of Education's STEM Education Graduate Program is pleased to announce the creation of GradUTeach, a master's program designed to prepare students for high school and middle school science and math teacher certification