Why UTeach is Right for You
UTeach is designed to give both undergraduate students degree holders the opportunity to explore the profession of teaching in STEM fields (science, technology, engineering, and math) in a hands-on way. In the very first semester, students work in pairs to develop and teach lessons in a local classroom. Learn more about early field experiences in UTeach.
UTeach participants Garrett and Kira discovered their passion for teaching science and math by trying out UTeach. They prepared for two careers at once, a STEM-based career and teaching, in a streamlined pathway to a bachelor's degree and a teaching certification.
"I think one of the main positives that will come out of the Covid-19 pandemic is the preparedness, understanding, and range of tools available in education. No matter the situation, the tools and knowledge are available to allow for remote learning under nearly any conditions. Gone are the days of having a day off due to inclement weather, or missing school for a minor illness. Missed the bus? Zoom into class. Not sure what is due by the end of the week? Check Canvas/Blackboard. The exploration of new technologies to assist with education during quarantine has provided ample methods for students to learn (whether they want to or not) under any circumstances." -Logan A Roettger 2020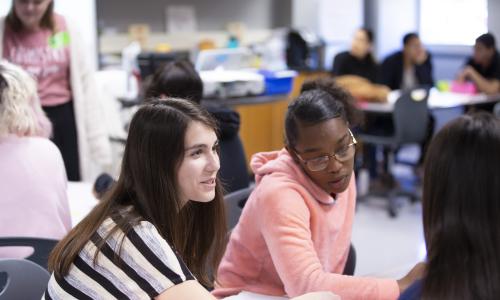 Watch your email for registration information from your UTeach advisor. Be sure to fill out your advising worksheet, too.