UTeach Student Ambassador Program
---
UTeach Student Ambassadors are some of the first faces prospective students see when learning about the UTeach Natural Sciences program!
The main mission of the program is to create welcoming, friendly, and informative events for Longhorns interested in learning how they can try out teaching with UTS 101, and ultimately gain a STEM teaching certification while obtaining their undergraduate degree at the University of Texas. Ambassadors also help maintain the close-knit, family-like environment that UTeach is known for by planning and facilitating events, socials, and networking opportunities for all UTeachers. 
Continue reading below to get to know the current Ambassador team, and feel free to reach out to them for questions on the program, pre-service teaching, and student life in the UTeach program at ambassador@uteach.utexas.edu.
Recurring Events
Annual Events

Information Sessions
Get to Know YoUTeach
Pancake/Teach 'Em Taco Breakfast 
UTeach Palooza 

Gone to Teach 'Em
Teacher Appreciation Week 
UTeach Town Hall
World Teachers' Day Celebration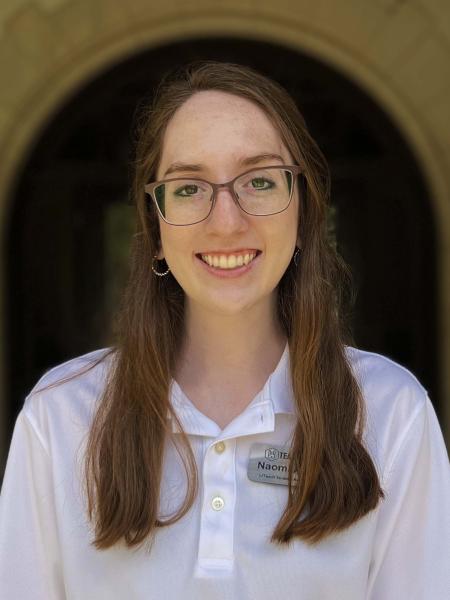 Naomi Ables, Class of 2024
Major: Biology 
Certification Area: Life Science
Fun Fact: Naomi is a huge music enthusiast! She is trying to build a music collection of CD's and vinyl's, and likely knows every lyric to all of Taylor Swift's songs. 
Why did you join UTeach?
I thought about becoming a high school science teacher in addition to being a biology major. UTeach seemed so welcoming and I heard the program was amazing so I decided to join.
Why would you encourage someone to try out teaching with UTS 101?
UTS 101 is a great way to learn more about UTeach and discover the classroom environment. For me, this class invited me into the UTeach program and inspired me to continue throughout the rest of my college journey. Also, this class helps you gain hands-on teaching experience and insight about being a future teacher.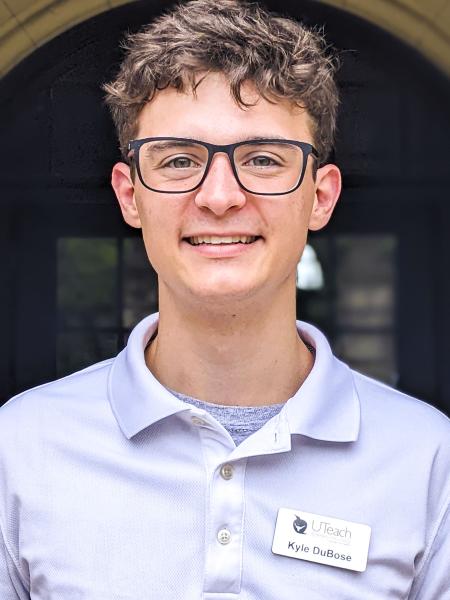 Kyle DuBose, Class of 2024
Major: Civil Engineering
Certification Area: Mathematics, Physical Science, and Engineering
Fun Fact: Kyle is a black belt in Tae Kwon Do!
Why did you join UTeach?
I started by joining UTeach on a whim. I was curious about the idea of teaching and had room in my schedule for the coursework. I figured that I could take the introductory class and decide from there if it was something I would be interested in continuing. Lo and behold, here I am now excited to go to every UTeach class I have.
Why would you encourage someone to try out teaching with UTS 101:
I think all of the classes offered by UTeach have something to offer everyone. Even if you are the slightest bit curious about going into education, I think you'll find the coursework very beneficial. In just my few semesters here, I have gained insights into the education system, effectively communicating technical concepts, and encouraging healthy mindsets. There are even ways to get more involved, from clubs like Math and Science Teachers of Tomorrow (MASTT) and UTeach Maker, there are many ways to explore the program and meet like-minded people. We are like a little family here on Painter's 4th floor and we're excited to see you join us!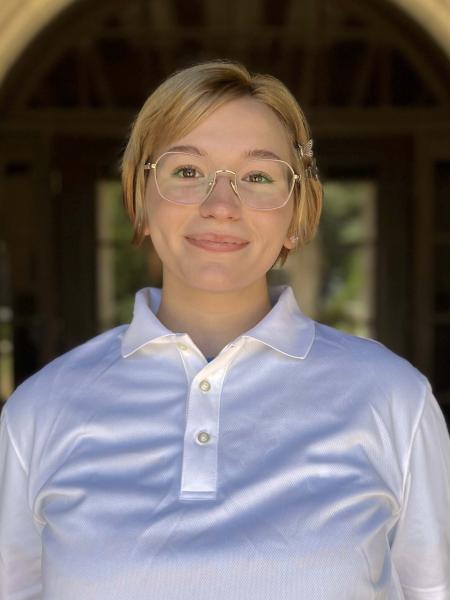 Amara Ego, Class of 2025
Major: Physics
Certification Area: Composite Science
Fun Fact: Amara loves to crochet, knit, and make jewelry!
Why did you join UTeach:
"I originally joined UTeach to fulfill a requirement of being a full-time student, but I quickly fell in love with the program. I have a strong interest in education and wanted to be a part of a community that is focused on preparing aspiring teachers to have a positive impact on students. The practical approach of UTeach really spoke to me, and I am excited to be a part of the effort to improve STEM education."
Why should someone try out teaching with UTS 101:
"UTS 101 offers a unique opportunity to explore the field of teaching and gain hands-on experience in a classroom setting. By working with experienced teachers, you will gain a deeper understanding of both the challenges and rewards of teaching as you get the opportunity to teach your own lessons! Whether you are considering a career in education or simply want to make a positive impact in your community, UTS 101 is a fantastic way to acquire valuable skills and make a difference."
Jessica Villarreal, Class of 2024
Major: Neuroscience
Certification Area: Composite Science with Computer Science Pathway
Fun Fact: Jessica is a great multitasker! One of her favorite things to do is to listen to audiobooks while she's doing another task. 
Why did you join UTeach?
Honestly, it was on a whim. The presentation peaked my interest and knowing that I will get field experience in the one-credit first semester was worth it!
Why would you encourage someone to try out teaching with UTS 101?
Teaching doesn't necessarily have to be your "Plan A" in order be a part of UTeach. The skills you gain in the first class you take are transferable to all careers!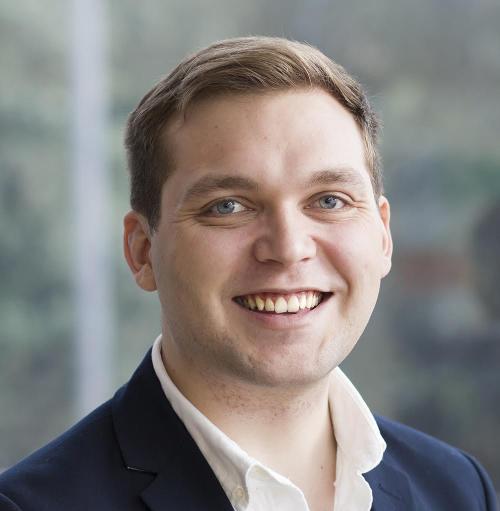 Applications open near the end of each fall and spring semester. Any UTeach student who has completed UTS 110 (Step 2) and carry a 2.5 GPA is eligible to apply.